Static Line - Solo Jump
Static Line Jump - Solo Jump
(Self Jump inclusive of 2-3 days of training)
Schedule for Static Line Jump.
If Skydiving is on your to-do list and you want the added satisfaction of doing it on your own, then after completing the FJC (First Jump theory Course), you can be jumping solo from 3,500 / 4000 feet using an advanced modern rectangular ram air parachute.
The static line attached to the aircraft on one end opens your static line parachute automatically, It takes about 300 feet before the parachute inflates completely. Once you see open parachute above you. Then it is up to you to handle the parachute on your own! Isn't it thrilling? Yeah, baby…
Don't worry ....our Instructors will guide you how to land with help of walky-talkies… The parachute ride will take about five minutes. No previous experience is necessary and it takes just 8 hours of parachute lessons to prepare you for your first solo static line parachute jump !!!...
Schedule of Static Line Jump during Skydiving Camp of duration 03 days:
Day 01: Training for Static Line Jump will start from 0700 hrs at our drop zone.
Duration of Training will be 06 - 08 hours. Participants are requested to carry their pen and notebook to note down the contents.
Day 02: Participants would be giving a written test during the first half of the day.
The test is to gauge how much the trainees have understood from the training of previous day, based on which Instructor will clear their doubts if any. In the second half, participants will be going for the skydiving jump as per the slots assigned to them by the Instructor.
Day 03: Skydiving jumps will continue on the 3rd day as well.
However, we try to finish a maximum number of jumps on Day 02.
Skydiving is an extreme adventure sport, and majorly weather dependent lot many factors come into action in the assessment of a real-time situation. Therefore, we advise all participants to plan their return journey by keeping one day in a buffer.
Solo Static Line Jump Cost:-
1 Jump Course – Rs. 18,000/-
5 Jump Course – Rs. 70,000/-
Inclusions:
Ground Training and Jump
Certificate of the Jump
Log Book signed by the Instructor with the details of the Jump valid across the globe
All gears and Types of equipment for the Sport.
Exclusions:
HD Photos 1000/- Rs / Videos 1000/- Rs not included available at additional cost.
Accommodation + local Transfers packages + Food NOT included.
1 NIGHTS & 2 DAYS Accommodation required For Static Jump Participants, Prices available on Request.
We have Tent accommodation in the drop zone itself.
Tent charges 1000 Rs per person per night on 2 or 3 sharing basis or the whole tent is available on 3000 Rs per night.
5 Jump Static line Course – Rs. 68,000/-
5 Jump Course Participants will also be awarded with the "Prestigious Para Wings Badge" on completion of 5 descends under the Parachute.
Static Line Jump sequence will be like this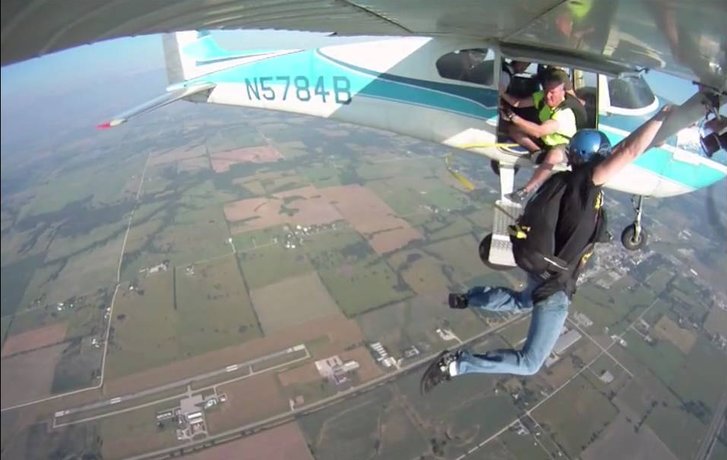 Static Line Jump – Exit with help of instructor at doorstep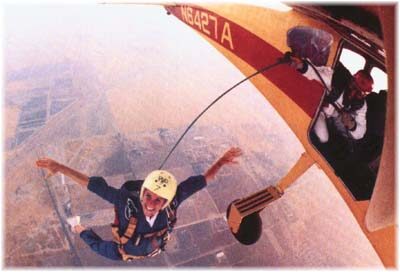 The instructor is holding the static line which is attached to your parachute.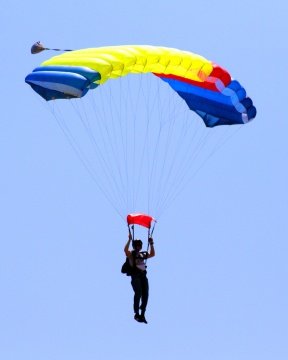 As soon as you exit the static line helps to open your parachute.
Once your parachute is open you have to make sure its flying perfect by releasing the toggles to steer the parachute.
Once you found its flying perfect remember the theory which u have to learn in class and apply it to land safely on the ground.
We assist you to land -Static Line Jump with help of walky-talkies... Attached to you.
This conventional method is often used by the military but is also used in sports parachuting as the first step in skydiving training. Most static line jumps are made approximately 4,000 feet above the ground.
P.S.: Only 1 Static Line Batch will be conducted [i.e., on a Friday – Saturday – Sunday] during the 5 days of the Skydiving Camp. Participants need to report on Friday morning at 0800 am at the Venue. Friday would be the Ground Training and all Static Line Jumps will be scheduled on Saturday and Sunday.